Hi Everyone,
Sorry I haven't posted for the last three weeks. I'm working on my first novel and it's coming together quicker than I thought it would, which is great. I'm halfway through, writing a chapter a week and loving how the rough draft is coming. In fact here's a picture of the chapters I've completed.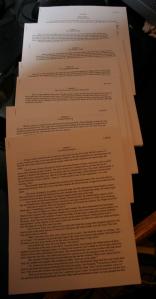 A group of chapters I've written from my first book.
To keep this post short, I'm going to try to write at least one blog post a week until I'm done writing the rough draft. These will be based around the challenges of writing and getting published. I'll also be continuing on my book reviews, slowly at first because between working 8 hours and writing for 5 hours at night there's not that much time for reading right now and of course writing about my journey to get my masters degree.
I just wanted to thank everyone for reading my blog, it's become a journey and the journey's coming faster than I expected which is both scaring me but also way too much fun as well.
Cheers everyone,
- Peter